East Village
carya is excited to be part of the East Village!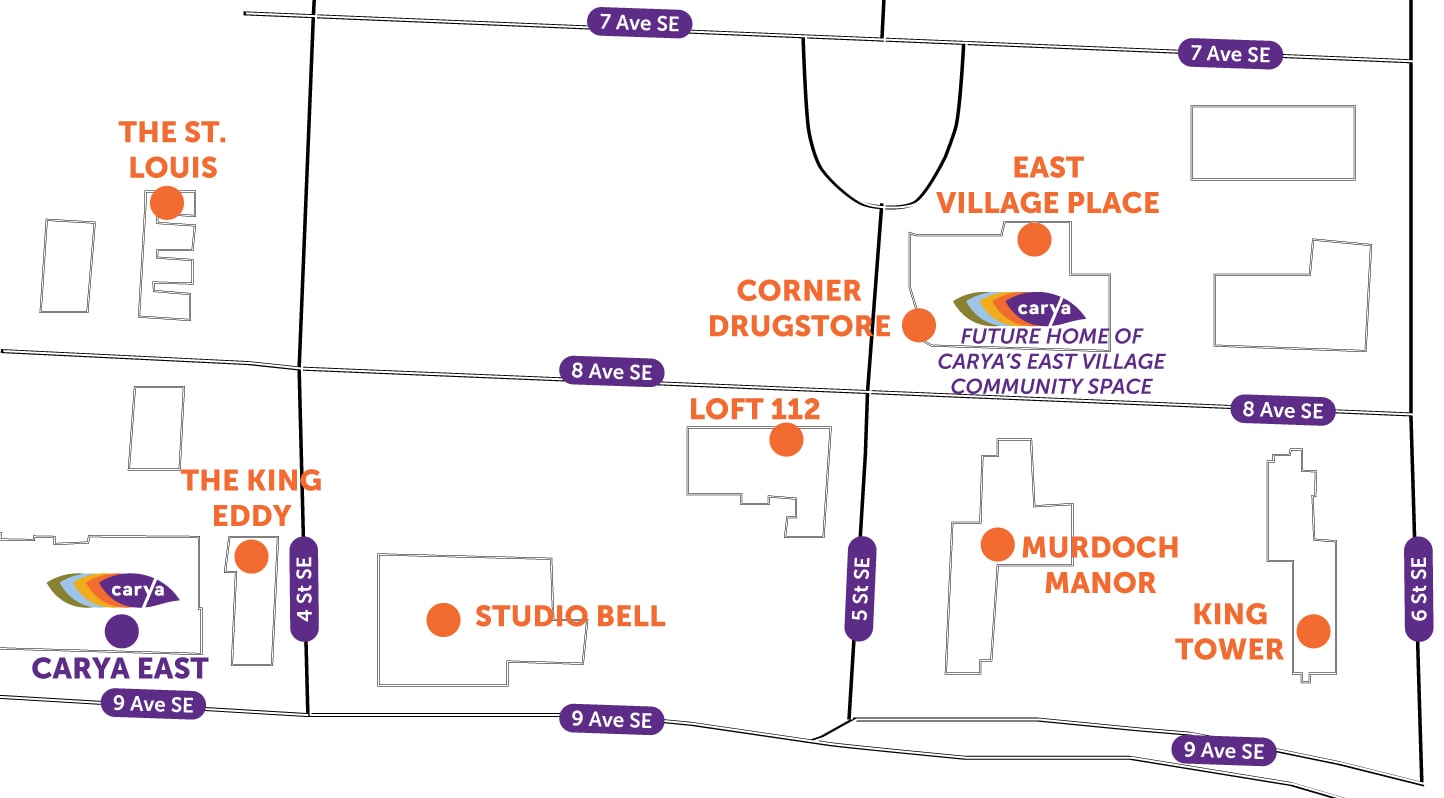 East Village Vision
carya
's vision for the East Village Community Space is to create a multi-generational hub that meets the needs of both current residents and the evolving needs of a distinct urban neighborhood. 
carya
believes there is a strong need and desire in the East Village to create a space for people to come together in ways that promote wellness, provide assistance and reduce social isolation.
It is carya's intention to develop the Community Space into a hub that brings complimentary services together in one building and provides an inclusive and respectful space for people to gather. Specific needs for the space include but are not limited to: conference rooms, multi-function program spaces, auditorium, office spaces, and commercial kitchen.
The goal is to be open in early 2019.

Project Update
In December Calgary Housing Company began working with CMLC to oversee the East Village Place renovation project. carya is excited to work closely with CHC and CMLC to develop the community space for East Village residents. In January an RFP was released for a Prime Design Consultant and Group2 was selected for the project. Group2 has extensive experience across Alberta with a particular specialty in renovations of facilities and design of community spaces are a core strength. carya and CHC are currently finalizing the lease terms and once complete, designs will be finalized and the construction tender will be released. There will be an opportunity for the community to see the designs prior to its finalization – stay tuned for those dates!
Current East Village Programming
On January 1st, 2018, we launched our carya EAST space at 428 – 9 Avenue SE. Read more about our temporary East Village space here.
We are pleased to see a gradual increase in attendance at carya EAST space despite a long winter.  We continue to offer fitness, arts, Zumba, chair yoga, games, Community Connects, Chow and Chatter and calligraphy on a regular basis and encourage you to join us as the weather gets nicer.  We have also launched some new programs such as Cultivate, Money Tips & Tricks, Wellness Exchange and The Way In – office hours.
Check our our carya EAST calendar for full details.
carya Community Kitchen
carya's Community Kitchen will be a gathering space providing community connection through food, culture and education. The kitchen will provide educational opportunities in the areas of nutrition and food security, and offer cooking classes and special experiences. Situated in the East Village and open to all Calgarians, this space is part of an integrated hub of services and supports for the community.
Youth
Educating youth about food has lifelong benefits. Teaching about food origins, nutrition, balanced diets and how to prepare meals creates a positive relationship with food that lasts a lifetime. The carya Community Kitchen intends to focus of youth education and provide classes and instruction that will help tackle some of the food security issues in our city.
Seniors
Food security is one of the largest issues facing seniors today. In our community kitchen space, we're committed to running programming for seniors and involving seniors to help solve this issue. Programs will cover topics such as cooking for one, budget friendly nutrition, seasonal eating and group cooking to provide meals to those in need.
Community
A kitchen is a gathering space where community connection and growth happens. This space will have programming intended to blend generations while building natural supports and community.
Social Enterprise
carya's Community Kitchen will be a space that can be used by small business and not-for-profits for a fee based service that creates revenues for carya programming. This will help us keep programs free or low cost for those in need.
carya Programs Potentially Delivered in East Village
We hope to use a portion of the space at East Village Place to deliver carya programs and services that will help and enhance the residents of East Village.  These program and services will include (but are not limited to): The Way In, Child, Youth, Family and Older Adult Counselling, group programs including Anger Management, Bloom, BOOST & Nurture Yourself, Community Development Programs, Elder Friendly Communities, youth recreation & education, Elder Service Corps and social inclusion programming.
Complimentary Services and Social Entrepreneurship
carya has a strong history of delivering relevant and innovative programs for individuals and families across the lifespan, and we will work collaboratively with partners, stakeholders, governments and service providers to bring together a wider range of programs and services to the East Village Community Space. Complimentary programs and services under exploration include health services, recreational & social programs and mental wellness resources.
Not only are the intentional connections like those listed above key to the community space but also the need to create a space for unintentional ways for people to connect and socialize in a space that is inclusive and respectful. Specific attention will be paid to designing gathering spaces within the hub that provide the opportunity to meet, connect and access shared resources such as computers and/or other technologies.
carya is also developing a business plan to operate social entrepreneurial activities within the Community Space to support the operation and ongoing programming in the Community Space. Social entrepreneurship activities currently under consideration are sub-lease management & backbone support for shared work spaces, food service options and partnerships and rentals/special events.

More Information?  Questions?  Concerns?
For Leasing, Programming and Client Concerns
Lisa Stebbins: Phone 403.205.5253 or email LisaS@caryacalgary.ca
For Community Updates and Outreach
Denise Meade: Phone 403.205.5247 or email DeniseM@caryacalgary.ca