Girlville
Since 1999, carya has been offering programs for girls in junior high/middle school and more recently for girls in grade six. In that time, we've noticed a shortage of helpful, healthy, safe, and trustworthy online resources for girls.
We wanted to change that.
That's where Girlville comes in – a fun and safe place for girls ages 10-16 to  access information, resources, and support that will empower them to develop into strong, bold young women who are open to learning and discovering who they are and the kind of person they want to be in the future.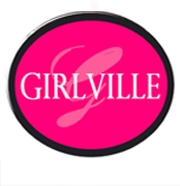 Girlville has something for every girl – whether you're looking for information on how to talk to your parents about a problem you're facing, needing to know more about puberty, feeling stressed out and not sure what to do, wanting to help a friend in trouble, looking to explore your creative artsy side, or just seeking motivation to be more active and healthy.
We also have sections full of great information and resources for anyone parenting pre-teen and teen girls. We have listed favorite books that are often used and referenced by carya and our partner agencies use too, along with other articles, posts, websites, links, and activities that we think will be helpful to you in parenting girls.
Ultimately, one of the most useful tools for you is being able to use this site as a conversation starter. A place you can visit on your own to familiarize yourself with the topics and issues faced by girls today and a place you can go to pick up some helpful tips on how you can talk about these tough topics with your child in a healthy, helpful, and safe way.
It can also be a place you can feel good about visiting together with your daughter for applicable posts to start a conversation about specific topics, including healthy relationships, bullying, safety, gender, sexual health, and drugs and alcohol.
For more information or to get the conversation started, visit our Girlville website today!