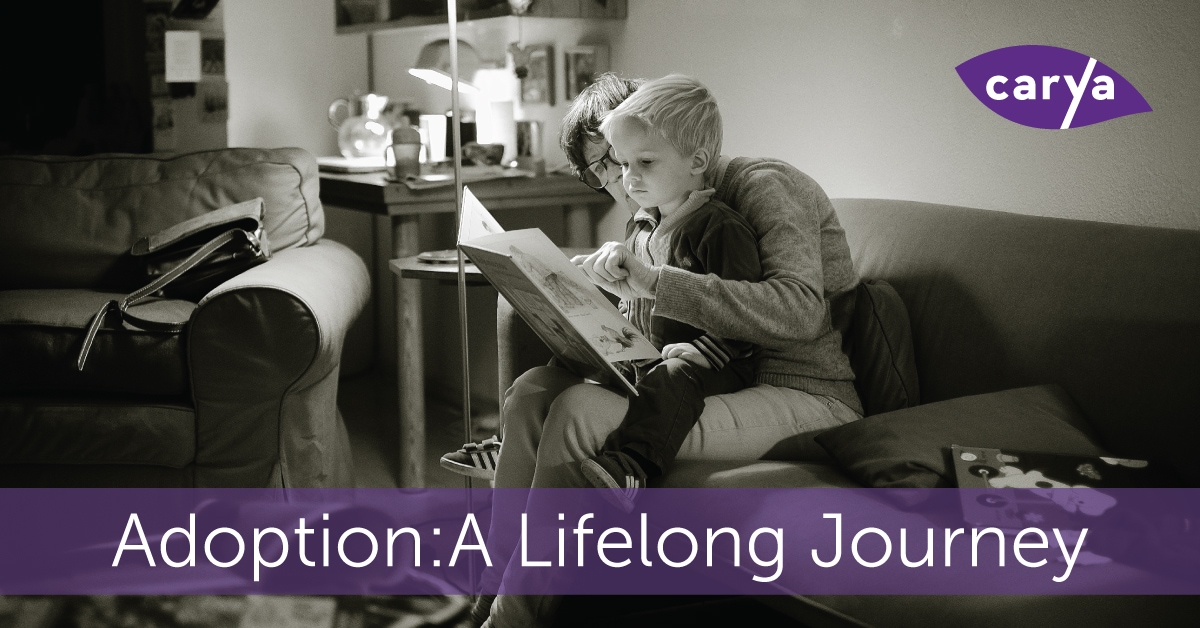 Adoption is a process of give and take. There is incredible joy in the forming of a new family, where new parents can give a child opportunities they might never have had. But alongside that joy comes sorrow and loss. A mother loses the chance to raise her child. A child loses the chance to be raised by his biological parents. Even after the stacks of paperwork are filled out, adoption is complicated, filled with highs and lows, delight and sadness, comfort and pain.
Our Adoption Kinship counsellors walk alongside families as they navigate this bittersweet journey. We work with families and adopted children up to the age of 24, guiding them through the questions and issues that each age and stage brings. Our goal is always to help families develop connection and trust through the adoption process. We strive to give families the tools they need to create safe and loving relationships with their children.
carya works primarily with families adopting through the public system, which means that many of the children who come through our doors have gone through a lot in their short lives. Maybe they were exposed to alcohol or other substances while in the womb.  Or maybe their parents just weren't able to provide them with the love, care and attention they needed to feel safe. Any kind of early childhood trauma has a negative effect on brain development and makes it hard for kids to trust the adults that want to care for them. Children who get off to a rough start in life may sabotage relationships in their new family, which is difficult for everyone.  As we help families build connection through safe and healthy relationships, we see traumatized and defiant children become healthy and happy. Helping parents understand why their kids are struggling and supporting them through the process of relationship building is a key part of what we do.
Months and years after an adoption is finalized, our Adoption Kinship counsellors still have a role to play. "Many people don't realize that adoption is a lifelong process", notes carya's Adoption Kinship Practice Supervisor Lynne Downey. "As children get older, they'll come up with new questions and issues related to their adoption". At carya, we provide ongoing support for children and families as they navigate the ups and downs of their adoption journey.
If you're an adopting parent, don't be afraid to ask for help. Acknowledge that your expectations may need to shift and change as you and your child grow together. Know someone who's adopting? Let the adoptive family know you'll welcome their new addition.  Support and affirm the adoptive family's feelings and experiences as they move through the various stages of adoption. Make yourself available to listen and provide hands on support to the adoptive parents. Simply letting your friend or family member know that you're there for them through the highs and lows can make a huge difference.
Click here to learn more about our Adoption Kinship services, or call 403.269.9888.